Editor's note: This article first appeared on Self-Sufficient Projects.
Can you imagine living without a fridge?
Humans have lived like that for millennials. The difference is that they had a few tricks up their sleeves that helped them survive.
Even today, people still live without refrigeration – some because of unfortunate circumstances, and others want to lower energy costs or cut dependence on the grid.
Whatever the reason, here's how you can live without refrigeration.
Seasonal Eating
A first step on the journey to living without refrigeration is eating local, seasonal food.
It doesn't matter whether you're buying it from the market or growing it yourself. The more local and seasonal, the better.
• During spring, there's usually a surplus of eggs, which is great because many foods will be gone or petering out. This is also a great time to enjoy maize, barley, rice, and other spring crops.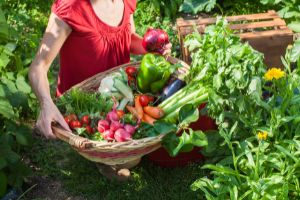 • During summer, vegetables and fresh greens abound, allowing you to eat an almost meat-free diet.
There are also many wild edibles to pick and choose from in summer.
You can find and identify them effortlessly and safely in most forests.
• During fall, excess animals are slaughtered, which provides the protein you and your family need to get through the cold winter months.
• Winter is the best season for storing any food as you can harness the cold temperatures to keep your food fresh.
Of course, this varies from location to location, but each area has a different natural rhythm of seasonal foods.
Food Preservation
After adopting a seasonal diet, you need to learn the traditional tricks your forefathers used to preserve their bounty.
• Drying is a preservation method that uses the wind and sun to reduce water activity in your food.
• Freezing without a fridge involves freezing water in the cold snow and placing it in a cooler along with your foodstuffs.
• Smoking flavors, cooks, and preserves food by exposing it to smoke from burning wood.
• Salting/Curing removes moisture from foods like meat.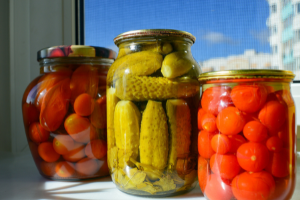 • Pickling involves preserving food in brine or marinating it in vinegar.
• Sugar in syrup or crystallized form can preserve fruits.
• Bottling and canning involve sealing cooked food in sterilized cans and bottles.
• Lye prevents bacterial growth by turning food alkaline.
• Jellying is a preservation method whereby you cook food in a substance that solidifies to form a gel.
• Potting involves placing meat in a pot and sealing it with fat.
• Jugging involves preserving meat by stewing it in wine, brine, or animal blood.
• Burial in the ground involves burying your food underground where there is no…