By Jackie Clay-Atkinson
Although we have a big freezer, I can up most of our meat. We raise beef cattle, turkeys, chickens, and we hunt, so we have a lot of meat. (Besides that, I am always on the lookout for sale prices on various meats from ham to whole boneless pork loin.) Why the heck do I bother canning it when I have a freezer, plus three upper freezer units in our propane refrigerators? Well, many years ago my fairly new chest freezer suddenly quit working for no apparent reason. It left me the huge job of canning up pounds and pounds of meat before it thawed completely and went bad plus (it seemed like!) tons of vegetables and fruit.
Things went well the first day. And night. But by the second day I was getting tired, racing to save our much-needed food. At that time I had eight kids at home and not a whole lot of income. By covering the chest freezer's top with heavy quilts and only opening it to yank out a new box of half frozen food, I managed three days and nights of canning. But by the fourth day I was exhausted and the food was getting past prime. We carried out buckets of soggy vegetables and fruit to the pigs and chickens. But I had saved nearly all of the meat. It took me a week to recover and I swore that would never happen again. So I started canning my meat. Once it is well sealed and in the jars, that meat is good for decades. No more worries about freezer burned food, power outages, or defunct freezers for me!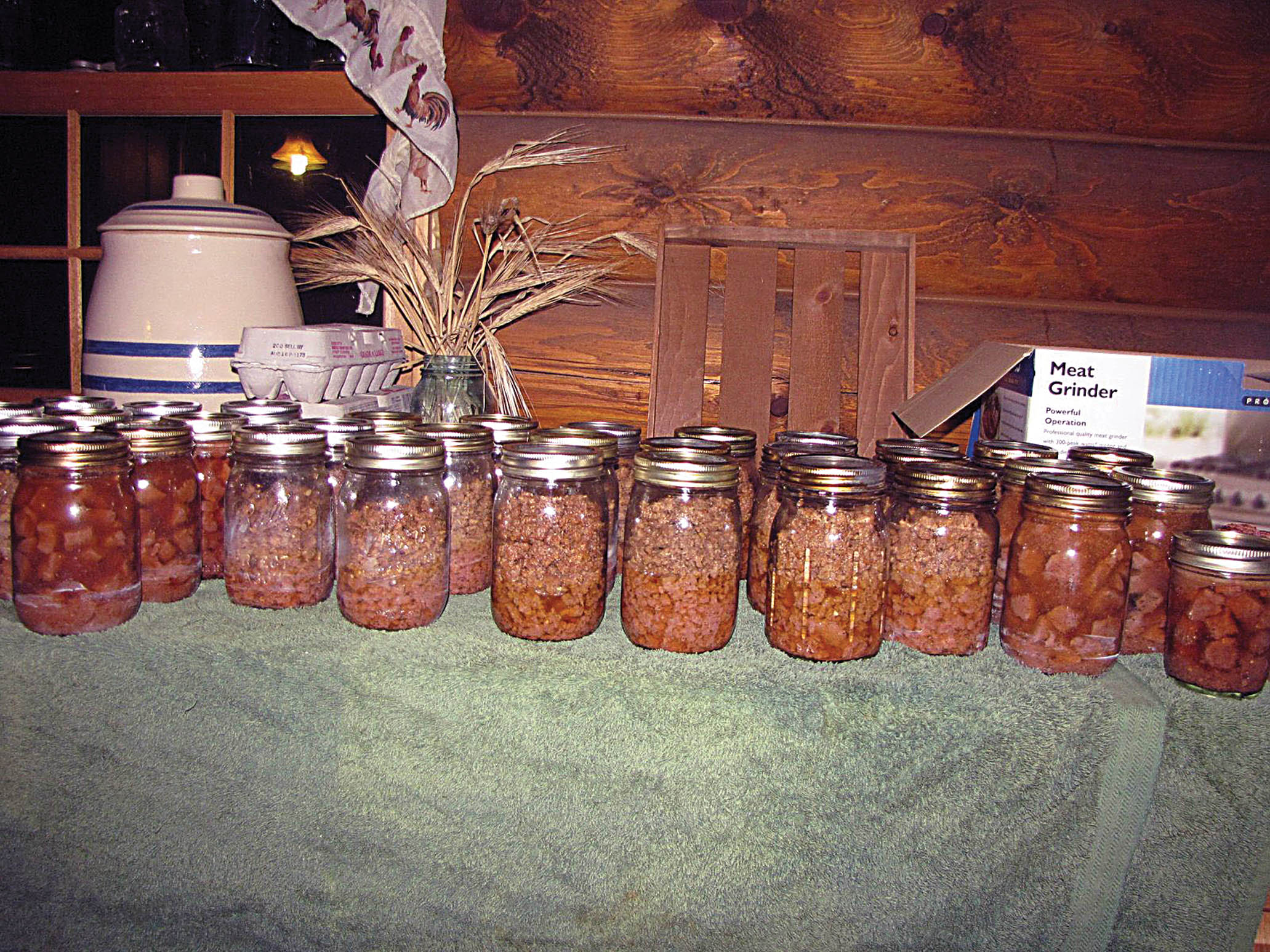 Venison canned in chunks and ground
Another advantage is that canned meat is very tender, tasty, and handy. You don't have to plan your meals around the freezer. If you decide on having a roast beef dinner, you just head to the pantry and pull out a quart or two of beef roast, some potatoes, onions, and carrots or other vegetables, dump them in a covered roasting pan and turn on the oven. In short order you have your dinner, fit for surprise company or your family who has been working hard all day. So easy!
And, best of all, canning meat is very simple. You just need your basic canning equipment and supplies: canning jars, lids, rings, a pressure canner, lid lifter, jar lifter, and canning funnel. Don't forget, most important of all, your canning book! Even though I've been canning all my life, I look at the recipes and instructions every time I can anything.
Luckily, nearly all meat with the exception of fish and seafood is canned about the same way so, in order to save space here, I'll just give you some general directions on canning meat so you'll get the hang of it and see for yourself just how easy it really is.
No matter what anyone says, you must…